Japanese cuisine: ochazuke. Today I am talking about a rather specific dish from Japanese cuisine. It's ochazuke (or chazuke) or rice with tea. This dish is one of the ways to use leftover rice (even left from the previous day). Japanese zero-waste in the context of rice. Check out my recipe for ochazuke with umecha (ume kombucha) and salmon.
What is ochazuke?
As I mentioned, ochazuke (お 茶 漬 け) is a dish made of "yesterday" rice, which is poured with tea. That is why the word cha (茶) or ocha (お 茶) appears in the name, meaning "tea" in Japanese (without or with the prefix o-).
It does not have to be yesterday's rice. If you want, you can prepare ochazuke from freshly cooked rice. So I prepared it myself at the beginning. Before we bought the electric rice cooker, we hardly ever had leftover rice. It happens more often now. We set up the rice cooker almost every day and sometimes a lot of rice remains from the previous day.
Ochazuke – Japanese comfort food
Ochazuke is a really fast and nice dish, which we usually eat for breakfast. Although it is popular Japanese comfort food, eaten to improve the mood or when the weather is bad, or when someone is studying / working late hours, etc. The dish is so simple that it is easy to make it yourself at home.
Zuke means "marinated"
You already know that ocha means "tea". While zuke (漬 け) means something like "marinated". You can know this word from a sushi restaurant, where they serve marinated fish (e.g. tuna in the akami zuke version). As toppings in ochazuke you can use salty and sour marinated ume (Japanese apricots), pieces of sashimi, fish roe, etc. I honestly admit that most often I see the ochazuke with salmon. And I also prepare such at home. I usually use smoked salmon.
Ochazuke with konbucha and salmon
Recipe for ochazuke

Ingredients for 1 serving of ochazuke
Bowl of rice (preferably Japanese short-grain rice).

100 ml of hot umecha (ume kombucha).
Half a handful of soaked wakame seaweed.
Approx. 50 dag of baked or smoked salmon.
Soy sauce (you can use the use gluten-free soy sauce).
Furikake topping (I use ume flavor) or sesame, kizami nori (nori stripes), etc.
Optional: chives, pickles (tsukemono) and other toppings.
Optional: a bit of wasabi.
A few notes about the ingredients
What kind of tea is used in ochazuke?
For this dish, you can use a variety of teas – ordinary green, but also, for example, genmaicha with roasted rice, which fits very well here. Or roasted hōjicha – the tea that would give this dish character. I usually use konbucha, which I bring from Japan. But beware – Japanese konbucha (pronounced "kombucha" with "m") is different from fermented drinks (based on mushrooms), which are now popular in the western countries. Japanese konbucha is an infusion of konbu seaweed. You can read more about konbucha – Japanese and "western" here.
Which short-grain rice that is good?
Short-grain rice can be bought in Asian food stores or ordered online. I usually buy Koshihikari, Akitakomachi and sometimes Californian Nishiki rice. Generally, there is nothing to overdo with rice in the context of this "zero-waste" dish.
Furikake topping

There is a great selection of furikake. Below you can see my recent purchases from Japan. I have bought 6 types of fuikake. Nevertheless, because I prepare my ochazuke with a ume konbucha, I decided to enhance this flavor with addition of sprinkles with the same taste.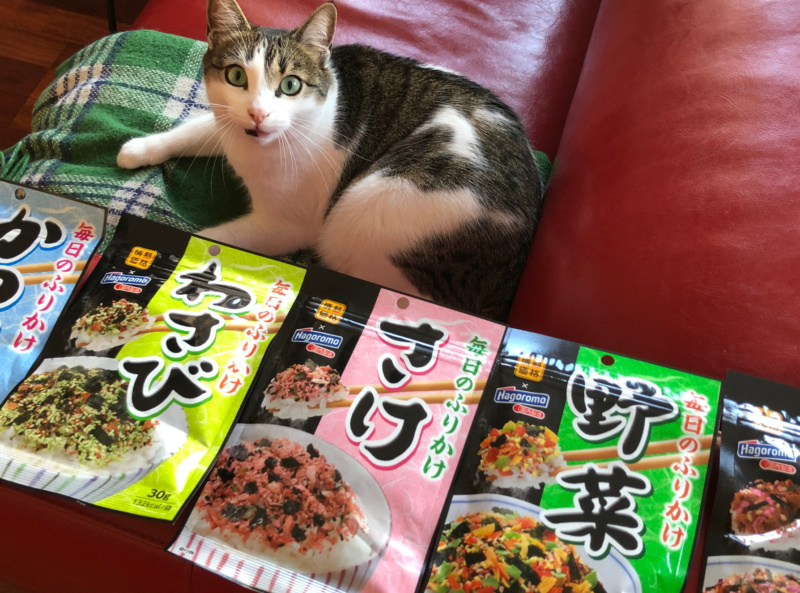 Preparation of ochazuke
Here is the super easy recipe for ochazuke. Just take cooked rice and mix it with additions (salmon cut into pieces, soaked wakame seaweed). Rice can be pre-heated in a rice cooker or poured with boiling water and drained. Pour everything over with hot tea, season with a little (a few drops) of soy sauce. Wait a moment. Sprinkle everything with sesame or other toppings (my furikake included, among others, sesame and kizami nori).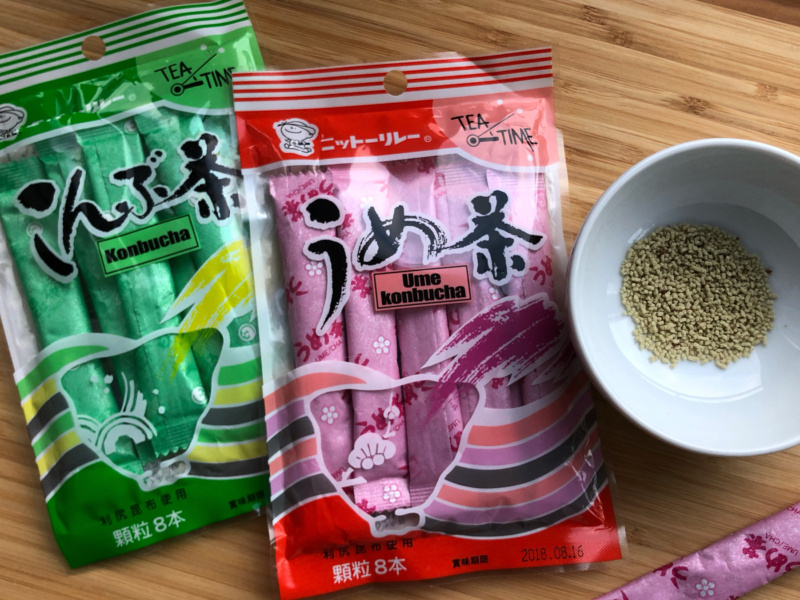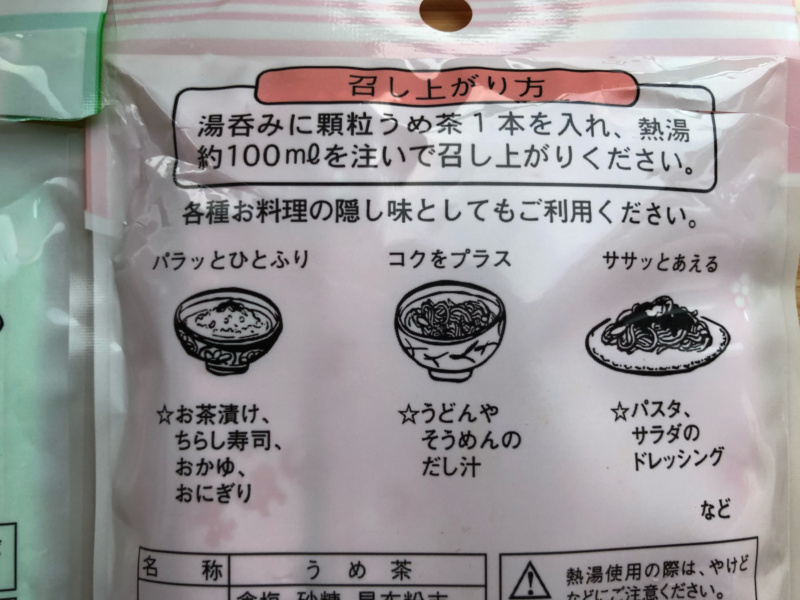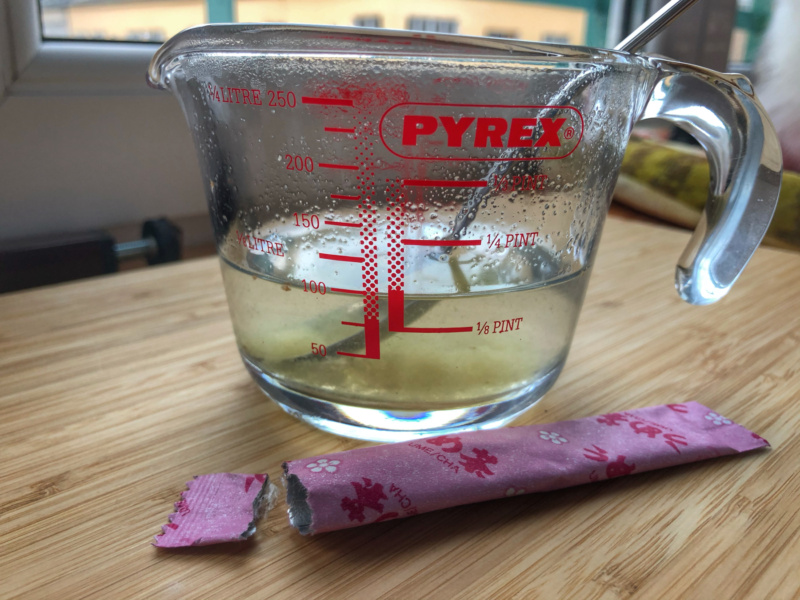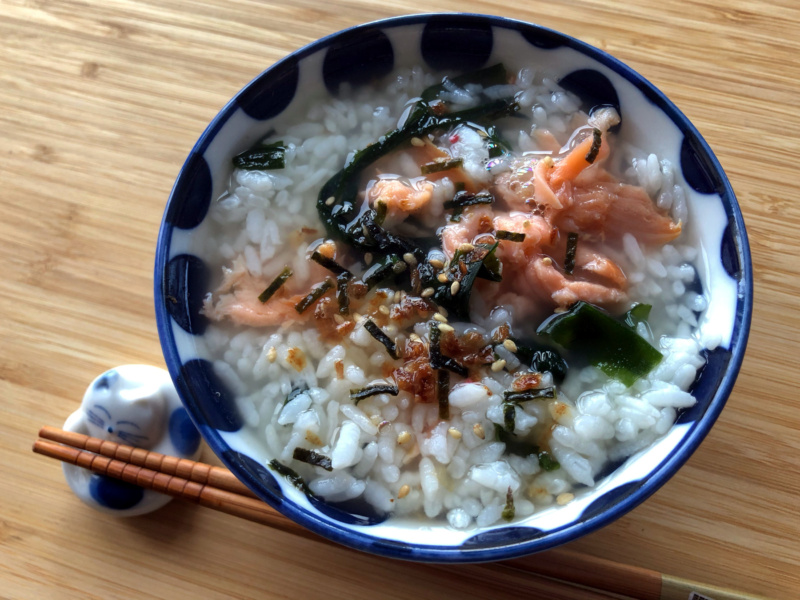 Bon appetite! Itadakimasu!
Extras:
🍜 Want to learn more Japanese culinary terms? Then check my Japanese Food Index page I am expanding!
👍 Like & follow me on Facebook to find interesting news on Asian cuisine:

Read this post in Polish: